Click Here For 2019 Pre-College Summer Programs Still Enrolling!
Blueprint at Georgetown University
Blueprint Summer Programs at Georgetown University will give you a whole new perspective on life. You'll have the unique opportunity to observe the country's most influential decision-makers, while enjoying the historic campus and eclectic community. Georgetown University's central location allows you to easily explore some of D.C.'s top attractions on foot, or venture further with convenient access to campus and public transportation.
Visit Blueprint at Georgetown University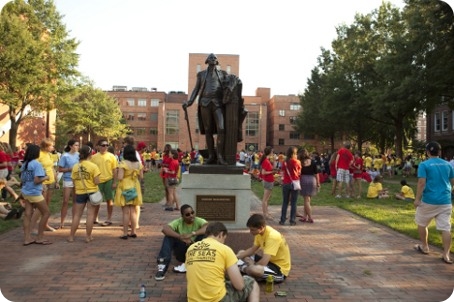 Why Georgetown University?
Georgetown University is located in the heart of the nation's capital, blending tradition and history with energy and excitement. The university is more than an academic hub. It's an integral part of the cultural, political and social landscape of Washington, D.C., offering hands-on opportunities that encourage personal and intellectual growth.
With campuses in close proximity to political mainstays such as the White House, the Lincoln Memorial and the Washington Monument, Georgetown University is literally at the epicenter of U.S. law and government activity.
Visit Blueprint at Georgetown University
Why Blueprint
You'll be going to college soon. For real. And with that comes independence, new opportunities and a whole lot of changes. From admissions to roommates, the Blueprint experience will help you handle it all.
Blueprint's Signature Summer Programs are designed specifically for students entering 9th, 10th, 11th or 12th grade. They hand pick partner-schools with excellent rankings and fantastic faculty, then customize curriculum to ensure an amazing pre-college experience.
At Blueprint, the focus is on learning and living. You won't have any tests or homework. What you will have is an amazing adventure that gives you - and your parents - the confidence to transition from where you are to where you're going.
Get started on the right path to college -- today. Blueprint's innovative programs will show you how.
Testimonials:
Blueprint allowed me to immerse myself in the college experience. I was taught by a real professor and lived in a dorm! I'm definitely more prepared now.
The staff at Blueprint was very kind and helpful over the phone, explaining all of the details. The camp was so positive my son has decided to apply to SU for fall 2011!
It is a great experience to meet new people and have fun learning about your favorite subject. There is nothing else like it.
Contact Blueprint
Call Blueprint for more details and campus-specific information: (877) 415-1111.