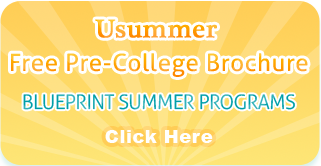 Pre-College Summer Program Directory
Usummer is a free pre-college summer program directory built to help you. It is a service Blueprint Summer Programs. Partnering with select colleges, Blueprint provides educational summer programs that empower students to cultivate curiosity and create their own blueprint for life.
Why Did Blueprint Create Usummer?
At Blueprint we believe that pre-college summer programs are the best way for high school students to test drive college life, discover great new schools and find the colleges that best fit their individual needs.
That's why we created Usummer. Our summer programs for high school students are great, but there are others out there that may be right for you.
Should I Attend A Pre-College Summer Program?
You wouldn't buy a car before test-driving it first, right? So why not take the time to live and learn on an actual college campus this summer, before you make the big decision. Campus tours are a great place to start, but pre-college summer programs are much more fun, and rewarding. So take a look around and begin your journey. But don't forget, this is your summer we're talking about. Have fun, relax and get ready for college!